Porcelain Vs. Ceramic tile: a detailed comparison
Further, as opposed to ceramic tiles, genuine porcelain tiles have their color & pattern through their entire thickness that renders them nearly insusceptible to wear. This quality makes them suitable for residential as well as busy commercial/ industrial purposes. Ceramic tiles are well-suited for light to moderate endurance requirement, with both wall tile & floor tile applications.
Owing to its extremely high density & composition involving natural materials, porcelain tile boasts of all the excellent qualities of glazed ceramic apart from being way stronger than the ceramic tiles. However, high density makes porcelain tiles quite hard and therefore, more difficult to cut & install as compared to the softer & more porous ceramic tiles. 
Porcelain tiles are available in high polished, unglazed and matte finishes while ceramic tiles have either glazed or unglazed surface formats. Glazed ceramic tiles are quite easy to clean, and neither absorb odors nor support bacteria/ allergens. But being glasslike, it is best employed on walls as such smooth surfaces are too slippery for flooring. Glazed ceramic tiles are more susceptible to cracking, contrary to the unglazed ceramic tiles.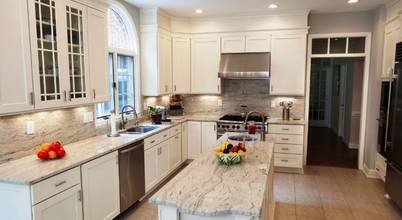 Porcelain Vs. Ceramic tile: a detailed comparison
rent?. Porcelain vs. ceramic tile: Is this a war between two vastly different types of materials or simply a war of words? The terms porcelain and ceramic are often used interchangeably as if they were the same thing.
Yorkshire Tile Company. A common dilemma when it comes to choosing tiles is whether to pick ceramic or porcelain. What is the difference? Which do I need? Is one better than the other?
Porcelain Vs Ceramic Tile: Is There A Difference?. Iron, which is plentiful in the earth's crust, is the main source of the orange, brown and terra-cotta colors of most china clays. The term "porcelain" has been used in Italy at least since at least the late 13th century Note 2 to describe ceramic tile made of white clay.
Video of Porcelain Vs. Ceramic tile: a detailed comparison